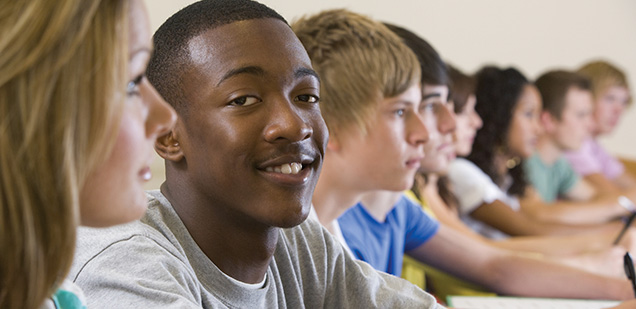 College Success
The College Success Program combines two previously distinct programs – College Access and College Retention - into one program, which assures our students climb the College Success ladder. At Parkdale, Laurel, Central, Fairmont Heights, High Point, and Potomac high schools, College Success coaches recruit 180 low and moderate income students to participate in the College Success Program. College Success coaches promote the Winning Attitude for Education mindset, which encourages these seniors to take the first step toward College Success. Coaches help students believe in themselves, empower them to solve problems, and work hard to achieve their goals. Coaches then help these seniors take the Best fit and College Affordability Step, which helps students identify the colleges where they're most likely to receive the resources to cover their college education.
Evening and day-time workshops help students prepare for the SAT, understand the college admissions process, understand their financial aid options, learn about financial literacy, and how to compete the Free Application for Federal Student Aid (FAFSA).
Our college affordability education and guidance assures our students are admitted to their best fit college.
Our Matriculation Support Step helps students complete the college bound process. Coaches especially work to prevent what has been called students' "summer melt." An estimated one-third of American students accepted into college don't attend. This phenomenon hits first generation students particularly hard.
Our coaches work to assure all our students accepted into college complete necessary forms and meet financial requirements to transition successfully to college. For students who are attending college, College Retention is the final College Success step. Seven volunteers- including three FGCB alumni- support students pursuing their degrees. This includes sending messages encouraging students to meet their academic challenges and achieve their academic goals.
Students also have opportunities to network with each other and FGCB staff, alumni, and board members. Sending care packages and visiting students on their campuses also encourage students to complete their degrees.
---
Complete the interest form below and a FGCB representative will be in touch with you concerning eligibility.
To be eligible, students are required to maintain a 2.0 Grade Point Average.
Parent/Guardian is required to attend the Parent/Guardian Commitment Orientation.
There is a one-time non-refundable fee for student enrollment to be paid after you are accepted into the College Success Program.
Complete College Success Form
*
Required