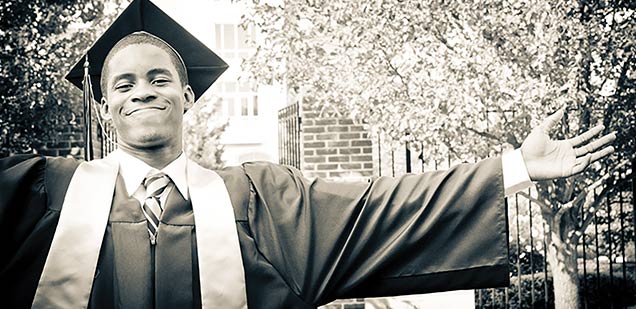 SUPPORT THE CLASS OF 2024
Mission & Vision
First Generation College Bound (FGCB) stands firm on its Mission and Vision.

Changing Lives Brochure
Mission Statement: FGCB exists to inspire low-income and first-generation youth to achieve social and economic success by providing advice, encouragement, and support to obtain a college degree.
Vision: One day every Marylander will have access to an affordable college education.
The vision affirms the experience of Joseph Fisher, CEO, and Founder, who began FGCB in 1990 by walking door-to-door through a public housing complex in Laurel, Maryland offering youth and their families a program of academic support and guidance to attend college.
FGCB is a community-based organization that offers youth and their families a "pipeline" of educational interventions comprising academic readiness, supportive services and guidance to achieve high school graduation, college admissions, and earn a post-secondary degree.
The organization functions to address the need for "outside of school" and "college access support" to increase the number of low-income students who graduate from high school prepared for college enrolled in quality institutions, and matriculate in four years.
Since the launching of FGCB, our organization has made an impact on college-bounding first-generation students to attend college and graduate.
Our highlights include:
Supporting a manageable ratio of youth to FGCB staff to ensure customization of services, based on student and family needs.
Early determination of financial needs.
Individualized recommendations regarding college readiness options, including academic preparation; and customized career and college search.
Ongoing involvement by FGCB staff with students and their families along each step of the matriculation continuum and upon enrollment, preventing summer "meltdown."
Documentation of student outcomes using consistent follow-up methodologies.