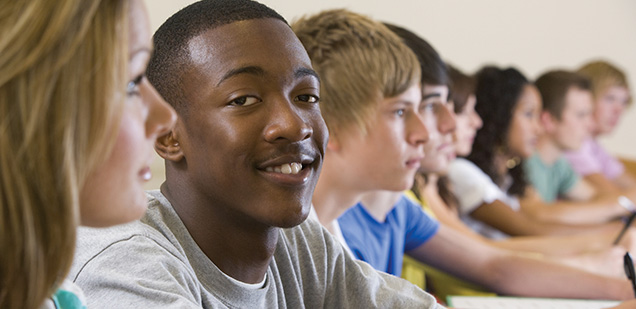 College Access
The College Access Program provides services to over 500 low- and moderate- income students at Central, DuVal*, Fairmont Heights*, High Point, Laurel*, Parkdale*, and Potomac High Schools. Beginning in the 2021-2022 school year, FGCB will partner with the Montgomery County Housing Opportunity Commission (HOC) to provide College Access services.
College Access coaches promote the Winning Attitude for Education mindset, which encourages high school students to take the first step toward College Success. Coaches provide ongoing customized advice, encouragement, and support for students to problem solve and achieve their goals.
During a student's senior year coaches then create a customized College Access Plan that focuses on the Best Fit and College Affordability model. This helps students identify the colleges where they're most likely to receive the resources to cover their college education.
Our coaches work to ensure seniors accepted into college, complete the required admissions and financial aid requirements and transition successfully to college. This on-going support continues during the summer for our students to successfully transition to college, which we refer to as matriculation.
FGCB students attending college, receive continued support from our College Retention Program. This continued support is provided by FGCB alumni and volunteers.
What makes the College Retention Program special is that students also have opportunities to network with FGCB alumni, board members, staff, and each other. We send care packages and visit students on their campuses to encourage students to complete their degrees. Sending care packages and visiting students on their campuses also encourage students to complete their degrees.
* Next Generation Scholars school site
---
Complete the interest form below and a FGCB representative will be in touch with you concerning eligibility.
To be eligible, students are required to maintain a 2.0 Grade Point Average.
Parent/Guardian is required to attend the Parent/Guardian Commitment Orientation.
There is a one-time non-refundable fee for student enrollment to be paid after you are accepted into the College Access Program.
Complete College Access Form
*
Required