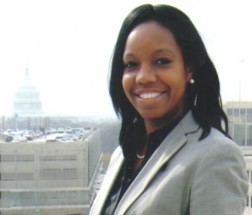 Anita M. Johnson
Bachelor of Arts, Anthropology 2011, Master of Public Administration 2015
I was in the second grade at the time I met Mr. Fisher in the 1990's. My mother was a single mother of five and high school dropout. I remember when Mr. Fisher would come to the recreation center in the Kimberly Gardens housing project where I lived to talk about college and have homework club. I had older siblings, and I remember Mr. Fisher and my mother having many conversations about preparing them for college. His presence stuck with me and made an impact on my life. I am now a first-generation college graduate with a bachelor's degree from Howard University and a master's degree from The University of the District of Columbia.
I graduated from Howard University with full academic honors with a bachelor of Arts degree in Anthropology. During my matriculation at Howard University I was afforded many opportunities to enhance my educational experience by being exposed to opportunities that I did not know existed. Along with participating in Law School Admission Council (LSAC) prep courses I was selected to participate in the heavily competitive Sutherland Asbill & Brennan law fellows program. I was also given the opportunity to participate in summer Anthropological field school in New Mexico to study correlations of the Apache Native Americans and The Buffalo Soldiers.
Immediately after graduation I was selected as an Emerging Leaders Intern with The Congressional Black Caucus Foundation (CBCF). I had the opportunity to draft policy legislation, attend briefings and hearings, meet countless congressional members; the president of Korea, First Lady Michelle Obama; and President Barack Obama! Immediately after completing my term with CBCF I was selected to complete an internship at the White House office of Presidential Correspondence under the Obama Administration.
I decided to further my education by obtaining a Master of Public Administration degree at The University of the District of Columbia School of Business & Public Administration. While at UDC I was selected to participate in the DC Government District Leadership Program where I was placed in local DC government agencies such as The Office of Unified Communications, and The Office of Child and Family Services. In addition, I was selected as a founders fellow with The American Society of Public Administration (ASPA), and completed graduate certificates in Project Management, and Nonprofit Management.
Completing college has transformed my life. My mother went on to receive her GED, obtain certification in Nursing, and completed college coursework. Currently, I work in Federal Government, and plan to attend law school in the near future. I recognize that First Generation College Bound has had a huge part in my ongoing success!